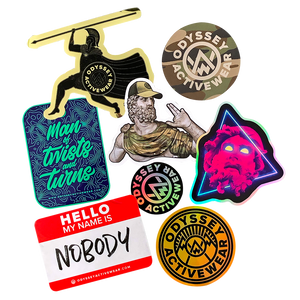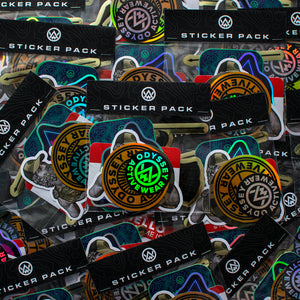 Odyssey Activewear Sticker Pack (8 stickers)

Frequently bought with:

Decorate your gear with the Odyssey Activewear Sticker Pack. Containing 8 high-quality, waterproof vinyl stickers with various special finishes, including holographic, glossy, and gold.
The pack includes a mixture of Odyssey Activewear logos and designs based on the adventures of Odysseus in The Odyssey:
Odyssey Logo (40x40mm) - A simple, small circular logo sticker with a vibrant holographic foil effect.
Odyssey Origins Badge (60x60mm) - The "Origins" badge tells the story of our brand as the logo is formed by the surrounding mountain scene. Printed with a sunrise orange holographic finish.
Odyssey Camo Logo (60x60mm) - Our circular Odyssey Activewear logo with the colour scheme from our Woodland Camo range.
Odysseus Statue (85x67mm) - Our brand mascot Odysseus wearing our Origins Trucker Cap and Woodland Camo... cloak. 
Man of Twists and Turns (58x80mm) - "Sing to me of the man, Muse, the man of twists and turns" begins The Odyssey. Our twists and turns are more like berms and singletrack.
My Name is Nobody (80x56mm) - Name badge design inspired by Odysseus' cunning plan to defeat the giant Cyclops in The Odyssey.
Space Odyssey (70x80mm) - Mashup of The Odyssey and 2001: A Space Odyssey. The holographic film shines through the eyes and neon triangle to create a surreal effect inspired by the movie's 'Star Gate' scene.
Odysseus Spear (100x92mm) - Ancient Greek pottery-style figure of Odysseus in full battle gear during the Trojan War. Black on reflective gold vinyl.
Delivery Information
Destination
Avg. delivery time
Shipping cost
🇬🇧 UK
2-3 days

£4.99
(FREE on orders over £60)

🌐 International
4-7 days

£12
(FREE on orders over £150)
Orders placed on Friday afternoon will be processed the following Monday (with the exception of Bank Holidays)
Shipping destinations outside the UK may be liable to import duty or customs charges. Any additional fees must be paid by the recipient.
FREE 30 Day Returns
If you are not happy with your order, you are welcome to return it within 30 days. We'll even cover the return postage cost! Conditions apply, please see the Returns page for more information.