Will my item look exactly like the picture?
We use a combination of computer generated graphics and real product photography to present our designs, however you may find slight differences in the colours and pattern layout due to discrepancies between computer screens and printed inks, and how the garment panels are cut and sewn together during the manufacturing process.
How much is delivery?
Shipping costs vary depending on location, please refer to the Delivery Information page for prices and times.
Can I cancel my order?
If you change your mind, you have a right to cancel your order. Please contact us as soon as possible.
If your order has not yet been shipped, we will happily provide a refund. However, if the item is already in transit, we request that you first submit a return.
Can I order from overseas?
We do offer international shipping, but please be aware that postage costs may be higher, and the item(s) could take longer to reach you as they pass across borders.
Shipping destinations outside the UK may be liable to import duty or customs charges. Any additional fees must be paid by the recipient.
Where are your products made?
Odyssey Activewear products are designed in the UK, and made by a reputable sportswear manufacturer in China that has supplied some big brands across America and Europe.
Where are your products shipped from?
All products are shipped by us in the UK after the order has been imported from our manufacturing supplier. 
Are your designs available anywhere else?
All clothing designs are designed in house and are unique to Odyssey Activewear. All products are custom made, we do not use wholesale designs.
Products are only available directly through the Odyssey Activewear website and associated channels.
Will you be releasing any more designs?
We are always coming up with ideas for fresh designs. To be the first to know about any new product launches, be sure to join our mailing list.
Why the name 'Odyssey'?
The word Odyssey comes from the Ancient Greek story that follows the epic journey of Odysseus, King of Ithaca, as he travels home after the Trojan War.

Friend of Achilles, mastermind behind the iconic Trojan horse, slayer of the cyclops, skilled archer, and portrayed by the legend Sean Bean in the 2004 movie Troy, Odysseus is a pretty cool brand ambassador for Odyssey Activewear!

Here he is wearing our Odyssey Activewear "Origins" cap and Woodland Camo... cloak. We thought about maybe developing a line of performance 'Chlamys', but this Ancient Greek cloth worn by warriors was the only piece of clothing covering an otherwise naked body, making it not quite suitable for 21st century society. Instead, we decided to design lightweight, breathable, and quick-drying performance T-shirts* to provide you with the technical functionality your clothing needs for wherever your odyssey takes you.

*We recommend you pair our clothing with some kind of lower body covering too... Unless you're an ancient greek hero/god!
What is the circular logo meant to be?
The Odyssey Activewear logo icon is a combination of the letters O (for Odyssey), A (for Active), and W (for Wear).
This layout also forms a stylised graphic of mountains. Some people see trees, a tent, or a campfire, but it all relates to the outdoors and adventure theme that inspired our brand.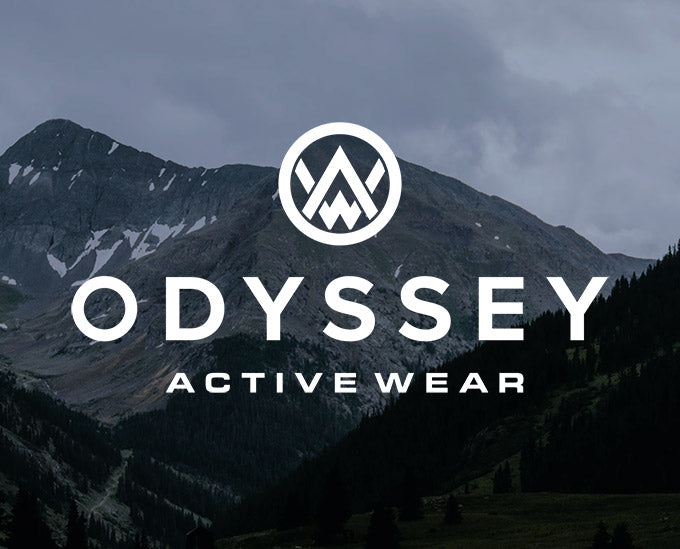 Do you have a store I can visit?
We are an online-only business and do not have a premises that can be visited by customers.
What sports/activities are your clothing made for?
The original idea behind Odyssey Activewear was to create a cross-discipline clothing line that is suited to a wide range of sports, hobbies, and pursuits, rather than target a specific industry.
Our performance shirts are made for whenever your clothing has to deal with adverse moisture conditions, either externally from the weather, or internally from perspiration.
It has been great to see our products being used for mountain biking, hiking, running, and workouts, but also the more unusual activities of precision rifle shooting and helicopter piloting!
Be sure to let us know what you get up to in yours!